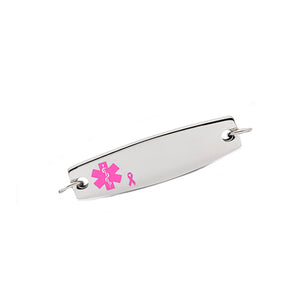 TC-PL Lymphedema Alert No BP Pink Ribbon Medical Stainless ID TAG
Stainless Steel Medical ID tag that features a pink ribbon and pink medical symbol on the top of the tag.  LYMPHEDEMA ALERT is engraved (etched) on the Front. Choose from 4 options for the back of tag:
NO BP IV NEEDLES THIS ARM, NO BP IV NEEDLES LEFT ARM, NO BP IV NEEDLES RIGHT ARM, or  NO BP IV NEEDLES BOTH ARMS Will be engraved on the back side.                  
The tag is 2 inches long and ½ inch high. It includes 2 jump rings on each end.? Attach this with our many interchangeable bracelet strands in our store to create your own look! Add 2 inches to the strand length for your overall bracelet length.