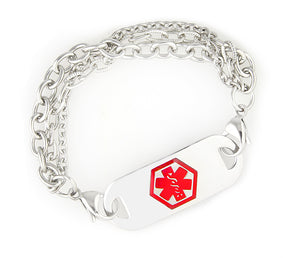 SS-07 Triple Strand Stainless Medical ID With Tag - Many Conditions
Very pretty, Triple strands of stainless steel chain attached to a medical ID tag. 3 bracelets in one!  This bracelet includes the pre-engraved medical ID tag with the condition etched on the back side of the tag. Available with these 14 medical conditions:

Diabetes, Diabetes T1, Diabetes T2, Diabetes on Insulin, NO BP IV Needles This Arm, See Wallet Card, Blood Thinner, Coumadin, Lymphedema Alert This Side, Gastric Bypass No Blind NG Tube, No Blood Transfusion, No MRI, DNR, Pacemaker, Penicillin Allergy, Epilepsy/Seizures.

Available in 5 Sizes. When ordering always allow yourself some wiggle room. Do not order your exact wrist size. This bracelet does not stretch. .5"-1" is recommended.