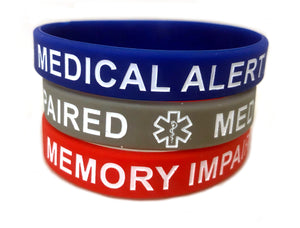 SIL-29 Memory Impaired Silicone Bracelet 3 Pc Set
Silicone Medical ID Bracelet, MEDICAL ALERT! MEMORY IMPAIRED is printed on each bracelet. Bracelets are 100% silicone rubber, hygienic, and will not create any allergic issues. 3 Pc Set Includes one of each color: Red, Royal, and Grey.
8" Adult Size. If you would prefer a different combination of colors please contact us.