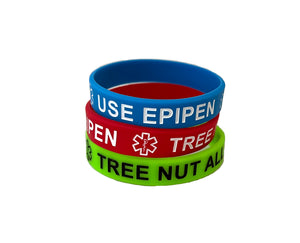 SIL-21 Kids Tree Nut Allergy Use Epipen Silicone Bracelet 3 Pc. Set
Kids/Youth sized (7") Silicone Bracelet. Each bracelet states * TREE NUT ALLERGY USE EPIPEN * with 2 medical symbols. 3 Bracelets included in price.
You will receive 1 Blue, 1 Lime and 1 Red. Colors may vary slightly from photo.
Please note: If your child has small wrists (under 4") these may slip off. NOT RECOMMENDED FOR TODDLERS/CHILDREN UNDER 3.