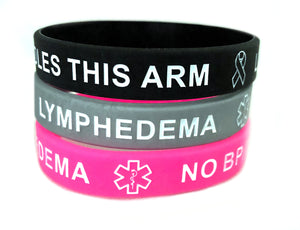 SIL-17 Lymphedema No BP Silicone Bracelet 3 PC Set
Silicone Medical ID Bracelet. ** LYMPHEDEMA * NO BP/IV/NEEDLES THIS ARM ** Is printed on each bracelet. A ribbon and Medical symbol separate the front and the back. The size is 8" Standard Adult. Bracelets are 100% silicone rubber, hygienic, and will not create any allergic issues.
Sold in a LOT of 3 bracelets. You will receive 1 Hot pink, 1 Silver and 1 Black.