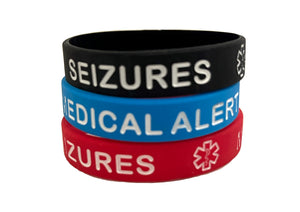 SIL-16 Child Youth Seizures Silicone Bracelet Set of 3
Set of 3 Silicone Medical ID Bracelet. Bracelets are 100% silicone rubber, hygienic, and will not create any allergic issues. The size is 7" Child/Youth.
Each Bracelet says "MEDICAL ALERT! SEIZURES".  Sold as a set of 3 includes 1 red, 1 blue, and 1 black.

Not recommended for children under 3. If your child has small wrists (under4") these may slip off.