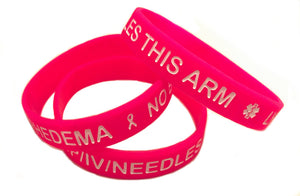 SIL-12 Pink Lymphedema - No Bp/IV/Needles Silicone Bracelet - 3 Adult Sizes
LYMPHEDEMA NO BP/IV/NEEDLES THIS ARM Is printed on each bracelet. Bracelets are 100% silicone rubber, hygienic, and will not create any allergic issues. The color is Hot (bright) Pink (may vary from image). Fonts will vary by size.  Features a breast cancer ribbon and medical symbol on each bracelet.
Available in 3 Sizes:
Small Adult is 7.5"
Standard Adult is 8"
Large Adult is 8.5"