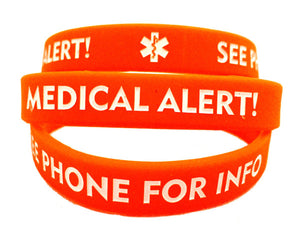 SIL-10 Medical Alert See Phone for Info Silicone Bracelet
Adult sized 8" silicone bracelet in red. (Please note Product color may vary from image.)
Each bracelet says: "MEDICAL ALERT! SEE PHONE FOR INFO" with a medical symbol in between each quote.
This bracelet is great for those that have medical information stored on their phone. Make sure your phone is set up so emergency help can access the information. Price is for one bracelet, 3 are pictured for details only.