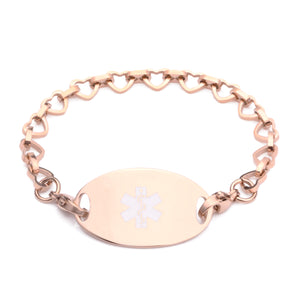 RG-102 Rose Gold Mini Open Heart Strand Medical ID With Tag
Very pretty, durable, stainless steel Rose Gold stranded medical ID bracelet. Features mini open heart links attached to the pre-engraved oval tag rose gold tag. Medical Condition is etched on the back side of the tag with your choice of:
Diabetes, Diabetes T1, Diabetes T2, Diabetes on Insulin, Blood Thinner, Heart Patient, No Bp IV Needles this Arm, Lymphedema Alert This Side, See Wallet Card or Blank.
Available in 6 Sizes. This is the total length of the bracelet. Do not order your exact wrist size and allow yourself some wiggle room. 1/2"-1" is recommended depending on how loose/tight you like it to fit.
Youth/Small Adult > 6.25"
Small Adult > 6.75" or 7.25"
Average Adult > 7.75"
Larger Adult > 8.25"
Largest Adult > 8.75"
The bracelet strand is interchangeable, you can attach to other tags as well.
Rose gold extenders are available in our store that add 1/2" to any bracelet.
PLEASE NOTE:
Lymphedema tag is engraved: LYMPHEDEMA ALERT THIS SIDE
No BP Tag is engraved: NO BP IV NEEDLES THIS ARM
See Wallet is engraved: SEE WALLET CARD FOR MEDICAL INFO
Diabetes Ins Pump is engraved: DIABETES INSULIN PUMP