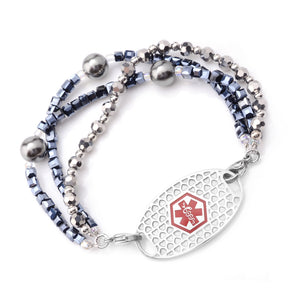 MD1701-H Medical Alert Triple Stranded Bead Stainless ID Bracelet CUSTOM ENGRAVE
Very pretty, triple beaded strand interchangeable medical ID bracelet. 3 bracelets in one! Featuring a blend of Silver and Blue beads and is made with a stretchable strand. Includes stainless steel clasps on both ends. Available in 2 sizes: 7.5" or 8.5". This is the total length of the bracelet. This Bracelet includes a unique oval Stainless steel medical ID Tag with heart impressions on top of the tag featuring the red international medical symbol.  Price includes custom engraving done on the back side of the tag. Up to 5 lines, Depending on how many lines will determine the amount of characters per line:
LINE 1 >  9c
LINE 2 > 12c
LINE 3 > 12c
LINE 4 > 12c
LINE 5 >  9c
We will review and confirm all engraving before processing.

PLEASE NOTE: This item requires approximately 3 weeks for processing and delivery. No rush orders, and no returns.