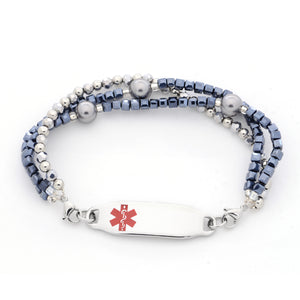 MD1701 Medical Alert Triple Stranded Bead Stainless ID Bracelet CUSTOM ENGRAVE
Very pretty, triple beaded strand interchangeable medical ID bracelet. 3 bracelets in one! Featuring a blend of Silver and Blue beads and is made with a stretchable strand. Includes stainless steel clasps on both ends. Available in 2 sizes: 7.5" or 8.5". This is the total length of the bracelet. This Bracelet includes a Stainless steel medical ID Tag with the red international symbol.  Price includes custom engraving done on the back side of the tag. Up to 3 lines, 16 characters per line.
We will review and confirm all engraving before processing.

PLEASE NOTE: This item requires approximately 3 weeks for processing and delivery. No rush orders, and no returns.