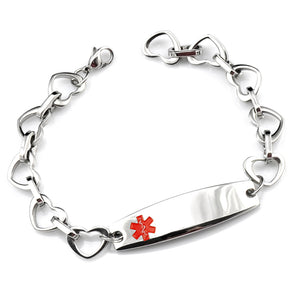 MD0201-L Lymphedema Alert Stainless Steel Open Heart Bracelet
Quality, Stainless steel Heart Link bracelet, LYMPHEDEMA ALERT is etched engraved on the top of the tag. THE BACK SIDE IS ENGRAVED: NO BP IV NEEDLES RIGHT ARM, OR LEFT ARM.
The Bracelet measures 8" in total length, however if you need it smaller, links can be removed (jeweler recommended) or you can attach clasp to a link that best fits.  Links measure 1/2" x 3/8", and are 2mm thick.