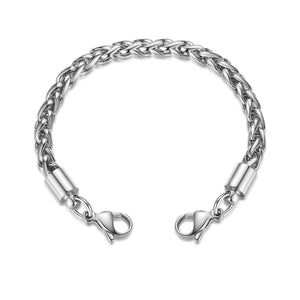 CK02-SS Medical ID Stainless Steel Silver Wheat Interchangeable Bracelet Strand
Silver stainless steel "Wheat" medical Id replacement Bracelet. Attach this bracelet to a medical ID tag. Tags are sold separate and vary in length (see options in store), or attach to your Id tag!
PLEASE NOTE: YOU ARE ORDERING THE STRAND LENGTH THAT DOES NOT INCLUDE THE TAG, WHEN TAG IS ATTACHED YOUR BRACELET WILL BE LONGER.
This Bracelet is available in 5 strand sizes:

Strand Measures  5 inches (Order this size) and an approximately total of 6.25>6.75 inches when tag is attached (youth/small adult)
Strand Measures  5.5 inches (Order this size) and an approximately total of 6.75>7.25 inches when tag is attached (youth/small adult)
Strand Measures  6 inches (Order this size) and an approximately total of 7.25>7.75 inches  when tag is attached (average adult)
Strand Measures  6.5 inches (Order this size) and an approximately total of 7.75>8.25 inches when tag is attached (Large adult)
Strand Measures  7 inches (Order this size)and an approximately total of 8.25>8.75 Inches  when tag is attached (Larger Adult)