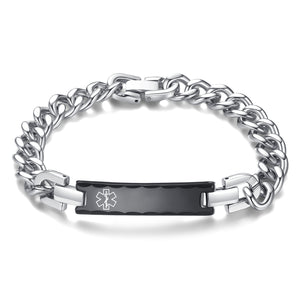 MD1407-M Mens Unisex Stainless Steel Black Plate Link Medical Bracelet CUSTOM ENGRAVE
Very Sharp classic link medical id bracelet that includes a black "polished" plate on the front with a white medical symbol.
Features Surgical grade stainless steel, Nickel-free, lead-free, corrosion & high temperature resistant. This is waterproof and suitable for daily wear. Price includes custom engraving on the front and back.
Mens (unisex) Available in 5 sizes, max is 8.5". (215mm Chain)
Front engraving: Up to 2 lines and 15 characters per line.
Back engraving: Up to 3 lines and 20 characters per line.
Do not order your exact wrist size, always allow for some wiggle room.
PLEASE NOTE: This item requires approximately 2-3 weeks for processing and delivery. No rush orders, and no returns.