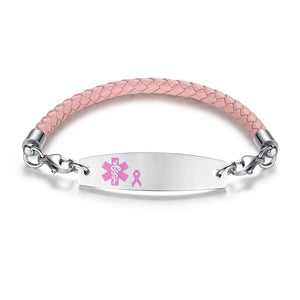 CK19PK-PR Pink Leather Bolo Bracelet With Lymphedema Alert No BP IV Tag
Pink leather bolo bracelet featuring a stainless steel Medical Id tag with Pink medical symbol and Pink Ribbon on the Tag.
LYMPHEDEMA ALERT is etched engraved on the top of the tag. NO BP/IV/NEEDLES - THIS ARM, LEFT ARM, RIGHT ARM, or BOTH ARMS is etched engraved on the back side of the tag.
Available in 6 sizes, this is the total length of the bracelet. Always allow a little wiggle room and do not order bracelet (total length) to be your exact wrist size.
Small Adult > 7"
Average Adult > 7.5"
Larger Adult >8",8.5"
Largest Adult > 9", 9.5"
Bracelet and tag are interchangeable (tag measures 2")
DO NOT IMMERSE THIS BRACELET IN WATER. THE LEATHER BAND IS NOT WATERPROOF.