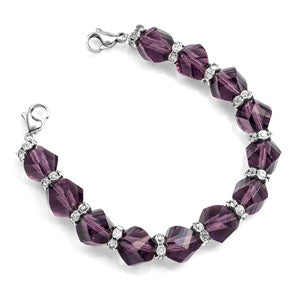 MD-0183 Purple Bead Interchangeable Bracelet Strand
A medical Id bracelet for that special occasion or everyday wear! A combination of Purple beads, and silver sparkle spacers. Stainless steel clasps.
The STRAND length is 6" (Average adult size) Tag sizes vary and may affect overall length. On average most tags measure 1.5" in length -Once adding your tag to this 6" strand your bracelet overall length will be 7.5".
If adding your own tag > Add your tags length to the 6" strand length for your total overall length.

Mix and match this bracelet with one of our pre-engraved ID tags, or have one customized! Medical ID tags are sold separate and are available in our store.