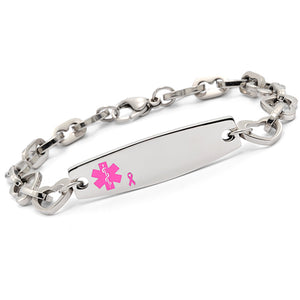 C-201P Lymphedema Alert No BP Stainless Pink Ribbon Heart Bracelet
Heart link stainless steel Medical Id Featuring a Pink symbol and Pink Ribbon on the Tag. Links measure 1/2" x 3/8", and are 2mm thick. Tag Measures 2" in Length.
LYMPHEDEMA ALERT is etched engraved on the top of the tag. NO BP/IV/NEEDLES THIS ARM is etched engraved on the back side of the tag. Many sizes available from 6.5" - 9". This is the total length of the Bracelet.
Want this customized? This item is available in our shop for customization.