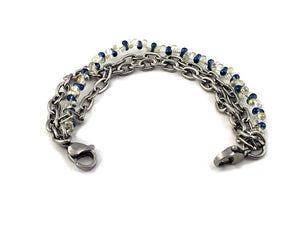 C-182 Triple Strand Beaded & Stainless Chain Interchangeable Bracelet
Very pretty, triple beaded strand interchangeable medical ID bracelet. 3 bracelets in one! 2 Stainless link chains and one beaded, are joined together and has stainless steel clasps on both ends. The small beaded strand is a combination of clear, blue, and translucent beads on a stretchable band. (image may vary from actual color)
Bracelet Strand measures 6 inches and a total of 7.5 inches when attached to our Stainless 1.5" medical ID tag. Other id tag sizes vary and may affect overall length.
ID Tag is NOT included and are sold separately.
Mix and match the many interchangeable bracelets in our store with one of our pre-engraved ID tags!