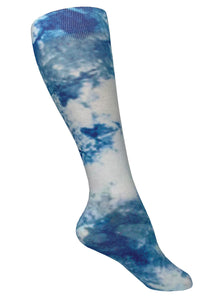 387T-BIC Tie Dye Blue Ice 15-20mmHG Soft Compression Socks
From Prestige Medical these Soft Comfort Compression Socks features a soft and smooth finish for extra comfort. Light weight compression for nurses or anyone who spend long hours on their feet.
Fabric Material: 77% Polyester, 15% Nylon, 8% Lycra Spandex
Compression: 15-20 mmHG
Length: 12 inches
Size: Ladies - One Size Fits All
Compression socks are designed to be tight, however if you have larger calf's these may not fit.

15-20 mmHg* [Moderate Compression] Therapy Guide:
* For the prevention and relief of minor to moderate varicose and spider veins.
* Helps relieve tired, aching legs, and minor swelling of feet, ankles, and legs.
* During pregnancy, helps prevent varicose veins and spider veins.
* Helps prevent deep vein thrombosis (DVT), also known as economy class syndrome.
* Used in post-sclerotherapy treatment to help prevent the reappearance of varicose veins and spider veins.
* Ideal compression level used for those traveling long distances.