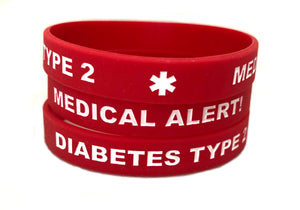 SIL-25 Diabetes Type 2 Silicone Medical Bracelet XL Adult
Silicone Medical ID Bracelet, MEDICAL ALERT! DIABETES TYPE 2 is printed on each bracelet with 2 medical symbols. The size is 8.5" a larger adult size. Bracelets are 100% silicone rubber, hygienic, and will not create any allergic issues. Price is for ONE bracelet. 3 are pictured to show details. Red in Color.
Standard adult is 8" this is sized 1/2" larger at 8.5".