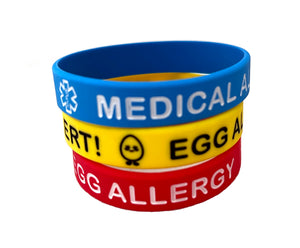 SIL-31 Kids Youth Egg Allergy Medical Alert Silicone Bracelet 3 Pc. Set
Kids/Youth sized (7") Silicone Bracelet.
Each bracelet states: * MEDICAL ALERT! * EGG ALLERGY Each Quote is separated with one medical symbol and one Sad Egg character.
3 Bracelets included in price. You will receive 1 Blue, 1 Red, 1 Yellow. Colors may vary slightly from photo.

Not recommended for toddlers or children under 3. Keep in mind if your child had very small wrists Under 4" these may be too big and slip off.