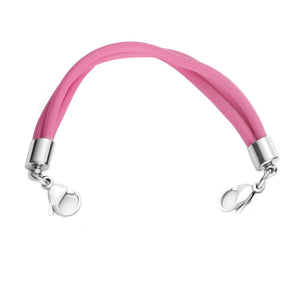 CN-225PNK Triple Strand Pink Silicone Replacement Bracelet
This Medical Id replacement Bracelet features Pink Rubber silicone (rubber) and stainless steel lobster Clasps. It is 3 silicone strands attached together at the clasps. This strand will not stretch.
Tags are sold separate, or attach your own tag. Tag sizes vary Usually between 1.25" - 2" in length.
Please add the tags length to the strand to achieve your overall length. Example: If your tag is 1.5" long attaching it to a 6" strand your total length will be 7.5". Always allow a little wiggle room and do not orders bracelet (total length) to be your exact wrist size.
Available in 6 Sizes!
Strand Measures 5 inches (youth/small adult)
Strand Measures 5.5 inches (small adult)
Strand Measures 6 inches (average adult)
Strand Measures 6.5 inches (average-large adult)
Strand Measures 7 inches (larger adult)
Strand Measures 7.5 inches (largest adult)
Pre- engraved, customized, or blank medical ID tags are sold separate and are available in our store.