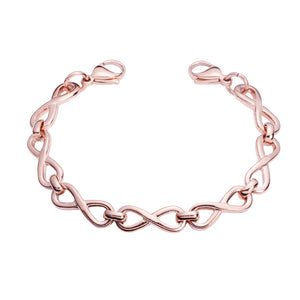 C-223RG Rose Gold Stainless Forever Link Replacement Bracelet
Rose Gold, stainless steel medical Id replacement Bracelet, featuring "forever" links and Lobster clasps on both ends. Each link measures approximately .5"L X .25"H. Attach this bracelet to a medical ID tag (sold separately) We have many pre-engraved, customized and blank tags available in our store.
Please note the length of the tag (or your tag if attaching your own) to achieve your overall length.

This is available in 6 sizes: PLEASE NOTE: YOU ARE ORDERING THE STRAND LENGTH THAT DOES NOT INCLUDE THE TAG, WHEN A TAG IS ATTACHED YOUR BRACELET WILL BE LONGER.


Child/Youth: Strand measures 5 inches and an approximate total of 6.25-6.75 inches when ID tag is attached. (Tag lengths will vary overall length)
Small Adult: Strand measures 5.5 inches and an approximate total of  6.75-7.25 inches when ID tag is attached. (Tag lengths will vary overall length)
Standard Adult: Strand measures 6 inches and an approximate total of 7.25-7.5 inches when ID tag is attached. (Tag lengths will vary overall length)
Large Adult: Strand measures 6.5 inches and an approximate total of 7.75-8.5 inches when ID tag is attached. (other tag lengths may vary)
Larger Adult:  Strand measures 7 inches and an approximate total of 8.25-8.5 inches when ID tag is attached. (Tag lengths will vary overall length)

Largest Adult: Strand measures 7.5 inches and an approximate total of 8.75-9.5 inches when ID tag is attached. (other tag lengths may vary)