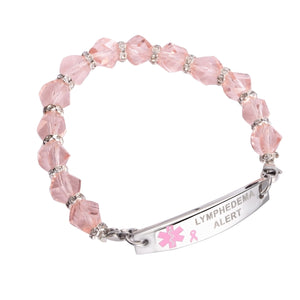 MD-188 Lymphedema Alert No BP Pink Ribbon Beaded Stainless Bracelet
Very Pretty Pink Beaded bracelet featuring a stainless steel tag with Pink ribbon and pink medical symbol. The beads are stranded on an elastic strand for ease of taking on and off.
LYMPHEDEMA ALERT is etched engraved on the TOP of the tag. Choose from: NO BP/IV/NEEDLES This Arm, Right Arm, Left Arm, or Both Arms - is etched engraved on the back side of the tag
This Bracelet is available in 6 sizes:
(XS Adult) Measures 6.5" (Small -Average ADULT) Measures 7", (Average Adult) Measures 7.5"-8" or (Larger ADULT) Measures 8"-8.5", (Largest Adult) Measures 9"