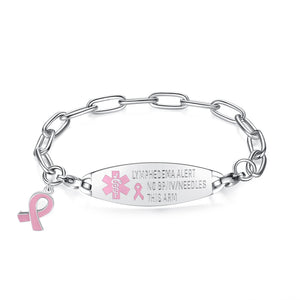 CK28-1374SS Pink Ribbon Charm Link Lymphedema No BP IV Bracelet
Very Pretty silver stainless steel link bracelet featuring a Pink Ribbon charm and stainless steel tag.
The Tag is engraved on the front LYMPHEDEMA ALERT NO BP IV NEEDLES THIS ARM. The back is blank.
Available in 6 Sizes:  6.5, 7, 7.5, 8, 8.5, 9 and Inches. This is the total length of the bracelet. Do not order your exact wrist size and allow yourself some wiggle room. At least .5"-1" is suggested depending on how loose/tight you like for it to fit.

The Tag and bracelet are interchangeable. The tag measures 1.5" in length.